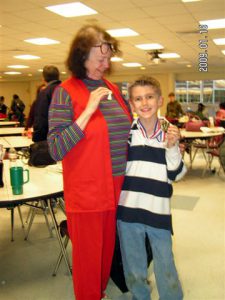 Coach Joan with HRCA Executive Director's son (her student), January 2009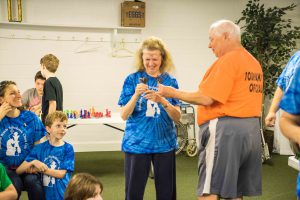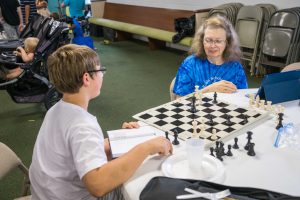 Coach Joan doing what she loves and receiving the "keys to the club" with husband Ernie, June 2015
Joan H. Schlich was an icon in the chess community nation-wide.  An avid player, coach, director, and organizer, she made a positive mark on the lives of countless adult and youth players over decades.  Joan passed away in June 2017 at the age of 78, leaving a hole in the hearts of the Hampton Roads chess community.  HRCA established a memorial scholarship in her name.  With these funds, no player is turned away for inability to pay any chess-related fees.  This needs-based scholarship ensures that every player, regardless of means, can achieve success.  All members of HRCA are eligible to receive a Schlich Scholarship upon request.  Contact us for the paperwork to request a scholarship (quick and easy; honor system)!
The DEADLINE for first semester scholarship applications has passed.  Contact us to be waitlisted for funds if they become available.
The DEADLINE for second semester scholarship applications is JANUARY 15, 2023.
The Schlich Scholarship can be used for the following expenses:
 Club membership fees (annual registration, dues)
 Online training accounts (ChessKid.com, Chess.com)
 School chess program tuition
 Tournament entry fees
 Tournament travel expenses
 State and National federation membership fees
 Private coaching
 Chess equipment for home use (e.g. boards and sets, notation books)
 Any other goods or services necessary for a player's development
If you would like to donate specifically to the Joan H. Schlich Memorial Scholarship fund to ensure that no player is turned away for inability to pay, click here:
[wp_paypal button="donate" name="Schlich Scholarship"]