Latest News  Updated 11/24/18
News
Congrats to our scholastic players who finished strong at the ARCC Thanksgiving Invitational in North Carolina on November 17th.  HRSCC's Melvin Gomes finished first in the Unrated section, followed by one of our HRCA school chess kids Yunus Cetin in 2nd and HRSCC's Aiden Hoyt in 3rd.  In the Open section, HRCA school chess kids dominated, with Ryan Poynton taking 2nd and Miguel Duprey 3rd.  HRCA school chess program Old Donation School finished as the top team in the tournament!
Congrats to all of our adult and youth HRCA players who attended the Zofchak Memorial tournament November 17-18th.
HRCA took many of the top honors in the Zofchak this year.  In the Open section, HRCA's Larry Larkins took clear 1st place with 4.5 out of 5 points.  Nemanja Milanovic took clear 2nd with 3.5 out of 5.  In the U1800 section, HRCA's Gideon Lohr and Gerard Wasserbauer were part of a 4-way tie for first place with 4 out of 5 points.  Tyson Brady and Christian Carrasco tied for 5th overall out of 43 players and were recognized as Top Class C players with 3.5 out of 5 points.  Marshall Robertson and Josh Havens also tied for 5th and finished with 3.5 out of 5 points — Top Class D players.
Congrats to our HRCA players who had some strong finishes in the Norther Virginia Open November 10-11th.  Larry Larkins and Bryant Lohr both finished high in the prize money standings with 4 out of 5 points.  Yan Morozov finished tied for top U1000 player.
HRCA is proud to announce that Larry Larkins is the 2018 Armed Forces Champion, finishing first at the Armed Forces Open October 6-8th at Andrews Air Force Base.  Larry has won this event several times, but the field was exceptionally strong this year.  Larry finished above even players rated over 2300.
Congrats to our kids who attended the final Emporia Open tournament October 20-21 — Christian Carrasco, Josh Havens, Samuel Kinnear, and Nina Herrera.  All performed better than expected for their ratings and gained points.  Christian finished in a three-way tie for 3rd place.  Josh and Samuel earned their personal best ratings, with Samuel hitting 4-digits (1000+) for the first time — welcome to the club!  Great job, everyone!
Congrats to Christian Carrasco on his outstanding performance at the National Chess Congress in the Washington, DC area the weekend of October 6-8th.
Christian played in the U1700 section and finished tied for 9th place out of 58 players with 4.5/7 points.  Christian had three big upsets, getting a draw against a 1553 rated player, and wins against 1643 and 1673 rated players.  As a result, Christian's rating went up to a personal best of 1542!  Christian and his mixed doubles partner also finished in 2nd place with a score of 10 points, earning the pair $500!!!  Way to go, Christian!
Congrats to the HRCA players who traveled to Richmond to play in the Meadowdale Fall Scholastic hosted by VSCA on October 6th.
Our tiniest Pre-K player Shrihan Pattnaik won 3 out of 4 games to take 2nd place in the K-5 Not Rated section.  Seth Recher also won 3 out of 4, earning him 3rd place in the K-5 Open section.  Seth also earned his personal best rating from the event, cresting 700 for the first time (713).  Ky-Quan Pham earned 5th place in K-12 Open with 2.5 out of 4.  Caleb Nichols turned in a nice performance in that section, as well, and earned a medal.  His upsets gave him a huge rating boost, returning him to within one point of his personal best.  Ky-Quan Pham and Soham Pattnaik teamed up to take 2nd place in K-12 Open for their school.  Way to represent Hampton Roads, everyone!
Congrats to our HRCA players on their performance in the VSCA Grafton Fall Chess Festival on September 24th!
In the K-5 Open section, our players took four of the top five spots.  Ishaan Potnuri took 1st place, Melinda Brady 2nd, Alex Carrasco 4th, and Varsha Padmanabhan 5th.  In the K-12 Open section, our players took three of the top five spots.  Ky-Quan Pham and Bao-Quan Pham tied for 1st place with perfect scores of 4.0, and Nimish Nookala took 5th place. In the Small Swiss for adults and advanced scholastic players, our kids took 1st — Tyson Brady — and 2nd — Christian Carrasco.  Our Old Donation School teams took 1st place in K-12 Open and 2nd place in K-5 Open.  Our NKA Homeschool Collective team took 1st place in the K-5 Not Rated section.  Liam Cowell was 2nd and Kelsey Gardner-Anderson 3rd in that section.  Ishaan Potnuri, Varsha Padmanabhan, Ky-Quan Pham, and Tyson Brady earned personal best ratings from the tournament.  Ishaan, Kelsey, and Liam also earned trophies for the brand new puzzle solving event.  Great job, everyone!
Congratulations to HRSCC's own Joseph Cagle, who won the State Amateur Champion title at the Virginia Closed Championship over Labor Day weekend!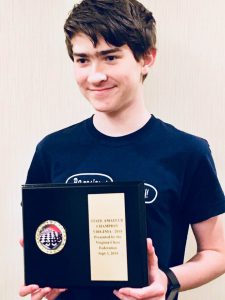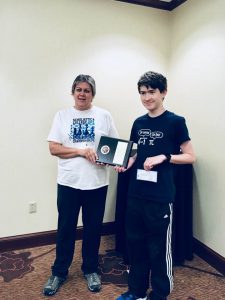 Local HRCA player Robert Eggleston, who is blind, competed in the FIDE World Junior Chess Championship for the Disabled in New Jersey from August 8-12.  It was an amazing experience that inspired this novice player to smash through his physical limitations and return next year stronger than ever!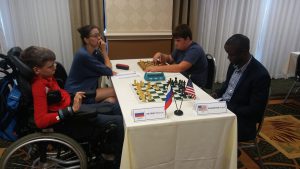 Robert's assistant most of the week was Uganda's Robert Katende of "Queen of Katwe" fame.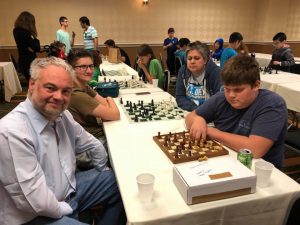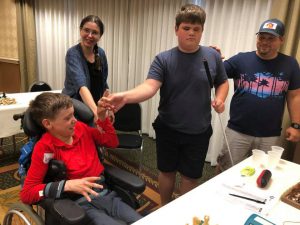 Robert competed against some world-class players from Russia, Uganda, and Germany.  He got some inspiration from GM Thomas Luther (Germany), FIDE Chairperson, Commission for the Disabled.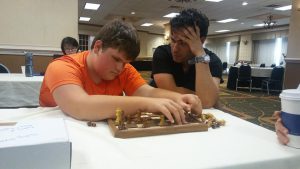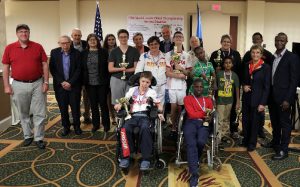 Robert received some one-on-one lessons from GM Sandro Pozo (Cuba).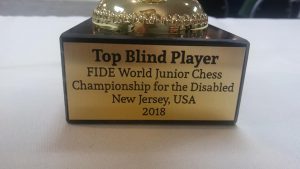 ---