Summer Masters Camp 2020 has successfully concluded.  Thanks for an amazing week, and hope to see you all in person in 2021!
Coronavirus Update:  On May 16th, HRCA leadership, after carefully considering guidance and restrictions in place from state authorities and our host facility, decided that Masters Camp this summer will be transitioned online in the same format and at the same price as originally planned.  If you are experiencing financial hardship but would like to attend camp, please contact Tina at cschweiss2@gmail.com about scholarships.
Hampton Roads Chess Association is pleased to present our best ever Summer Masters Chess Camp!
Online via Zoom and other platforms
July 27-31, 2020
Morning Session 9:00 AM – 12:00 Noon; Afternoon Session 12:30 PM – 3:30 PM
Coaches are working hard to design their online camps in a way that maintains the quality of instruction and the fun of attending a week-long camp in the summer.  Students will move back and forth from live Zoom training to other platforms such as Kahoot, Chess.com, ChessKid, lichess, etc. to practice skills learned in each piece of instruction throughout the session.  They will be given time for breaks, as well.  Families are encouraged to set aside a dedicated area for their child to "attend" summer camp, including having the child wear a club t-shirt, packing a lunch and special snacks that can be eaten near the computer, minimizing distractions, etc.  Anything you can do to help your child feel like they are "at" chess camp during the week would be fantastic!
Featuring three local Masters, there are offerings for kids of all abilities: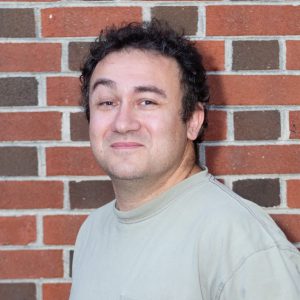 FIDE Master James Schuyler
James is a FIDE (World Chess Federation) Master rated near 2400 who has been playing competitive chess for over 30 years, since he was a child.  James has held the title of Virginia State Champion three times.  He competed in numerous international events to earn his FIDE title.  James has extensive experience teaching private lessons, as well as after school groups.  He has worked with many children from beginner to advanced.
Morning: Opening Systems:  Very few non-masters can routinely make it through the opening without disasters.  This is because most modern openings require so much memorization.  Using an opening *system* rather than a traditional opening allows a student to quickly master a small amount of knowledge rather than struggle to get a shaky understanding of a vast amount of material.  I last taught this subject a few years ago and the systems are still being used by many of the players, who now have much higher ratings.  I expect this to be most useful and appropriate for players rated 500-1200, particularly those who have been playing for years or are "stuck" in a certain rating range.
Afternoon: Tactics and Calculation: According to the great German Master Richard Teichmann, "Chess is 99% tactics."  While the exact percentage is debatable, everyone agrees tactics are a huge part of chess, so let's spend some time on it!  Tactical vision is a combination of pattern recognition and calculation.  Naturally, we will be working on both parts. Every time I hold this camp, all participants report a large increase in their ability to calculate.  Calculation is high-intensity brain exercise.  Expect to cry tears of frustration before experiencing the euphoria of tactical enlightenment. Recommended rating 700-1600.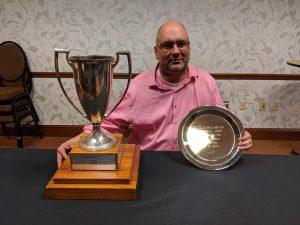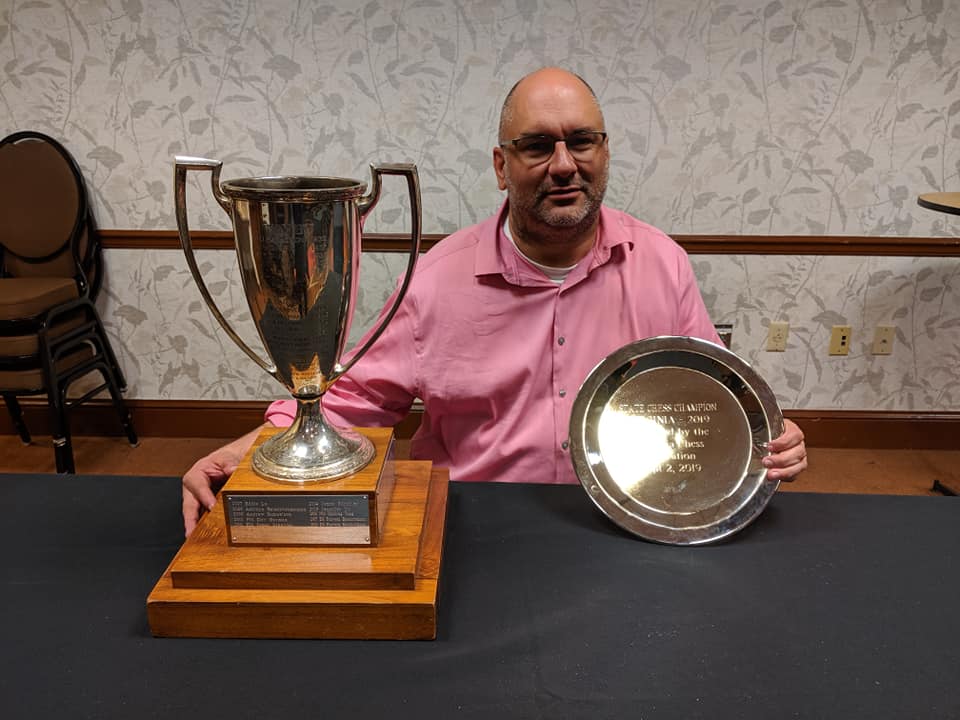 National Master Daniel Miller
Daniel is a six-time / reigning Virginia State Champion with 28 years chess coaching experience teaching all ages, from age 6 to 70. In 1990, Daniel was one of only eight members of the elite American School of Chess taught by Grandmasters. He has been a National Master since 1991, a Life Master since 1993 (when he was the #18 highest rated Junior player in the United States), and he is currently rated over 2350. Daniel was a member of the 2015 World Amateur Team Champion Virginia Assassins.
Morning: Sacrifice in Chess: Analyzing material sacrifices in terms of position, attack, development, and restriction. Sacrifices will be evaluated, and students will be taught how to properly balance material v. time and energy. Several commonly played opening sacrifices will be studied. Famous positional sacrifices from World Championship games will be studied balancing dynamic v. static factors. Students will practice playing, in tournament conditions, important strategic positions from each side. I will attempt to impart my own knowledge on the practical effect of sacrifices from 28 years of master level play.
Afternoon: Endgame Imbalances: A study of important endgame positions incorporating many new ideas not taught in last year's endgame class. Focus on material imbalances where one side has a greater quantity of lower valued pieces verses the other side's fewer in number but more powerful army. Q vs. three pieces, RR v. Q, four pawns v. a Rook, R v. B and N, etc. Basic essential endgames will also be studied as a way to understand complex dynamic endings. Important concepts from the Russian endgame laboratories will be learned.
Both camps have material targeted to the 1200-2000 range. Players rated 700 and up who can understand the material and have a strong desire to reach a 1200 rating are also encouraged to sign up.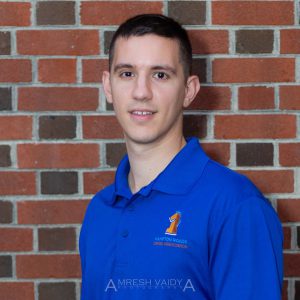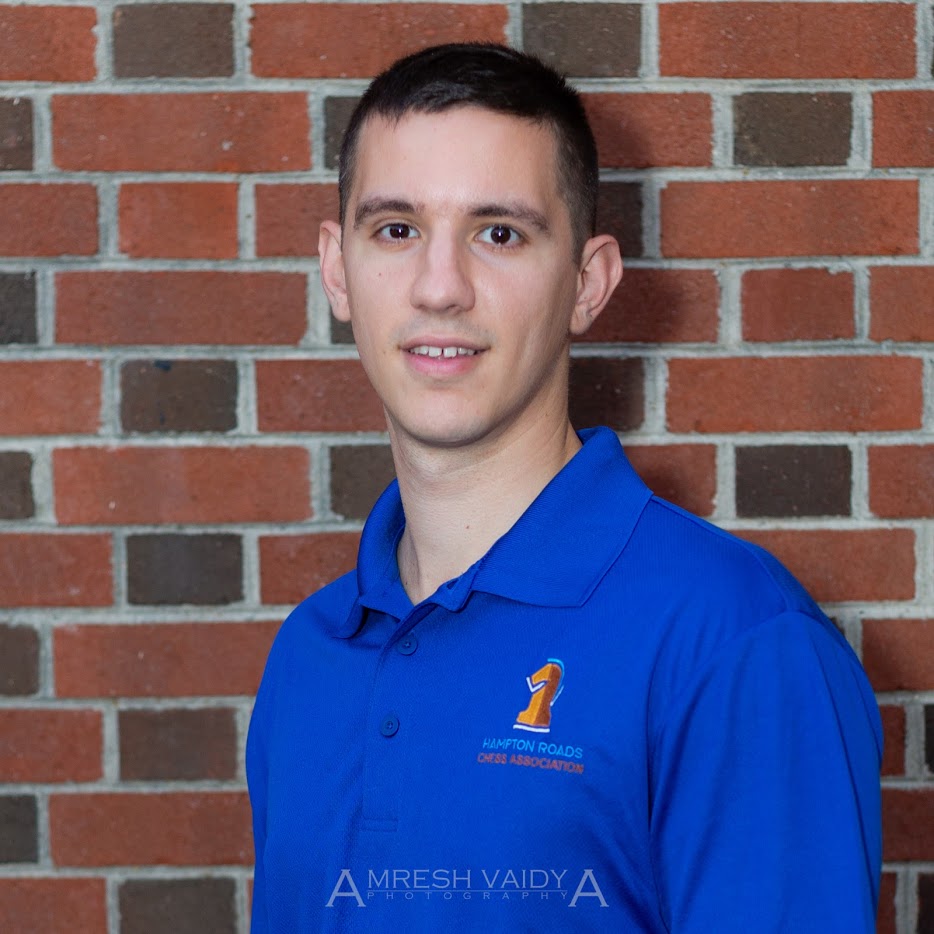 National Master Nemanja Milanovic  THIS CAMP WAS CANCELLED.
Nemanja is originally from Serbia and is a US Chess National Master with a rating of over 2250.  He was a Serbian state champion on a few occasions.  Nemanja had a year of experience as a coach at an elementary school in Serbia and upon catching the attention of HRCA in October 2017 was immediately snapped up as a private and school coach based on his gentle and patient nature with kids.  He is in his third year coaching school and club programs for HRCA and has numerous private students who achieve tremendous improvement and success.
Morning: Checkmate Chess Camp: "I fear not the man who has practiced 10,000 kicks once, but I fear the man who has practiced one kick 10,000 times." – Bruce Lee   The most important thing one should master in any profession is basics. And the only way to master the basics is by repetition. This camp will be focusing exactly on those fundamentals. Among other things, this camp will be covering the following: basic tactics (fork, pin, skewer, remove the defender, hanging pieces), basic endgames (king and pawn endgames, square of the pawn, etc.), opening principles and basic openings, checkmate patterns, instructive miniatures. This camp is appropriate for all the kids who already know how to move pieces and are unrated or rated under 500.
Afternoon: Once A-Pawn A Time: Napoleon once said that a soldier without a dream to one day become a general is not a good soldier. A Pawn's value from starting position is only labeled as '1'; however, that can be deceiving, as its true potential and strength can be much greater. In this camp, we will be focusing on pawn structures, their role in the attack, as well as their relation to other pieces. A few of the topics that we will be covering are: importance of controlling the center with pawns, effective attack, pawn storm, and middlegame combinations. Recommended rating range 500-900.
 Cost: $175 per half-day camp
 Each half-day camp stands alone.  "Full-day" campers may mix and match between coaches for a morning and afternoon session.
Payment Plans Available
Register in May: $120 in May; $30 in June; Final payment $25 in July
Register in June: $150 payment in June; Final payment $25 in July
Register in July: $175 due
Full-day campers double the rates for all payment plans.
$25 non-refundable admin fee included. Cancel by 5/31, remainder of payments fully refundable. Cancel by 6/30, half of payments refundable. Cancel in July – payments non-refundable.
Once you have registered for camp, you will receive an invoice for payment.
Ready?  REGISTER HERE FOR SUMMER MASTERS CAMP 2020!!!!!