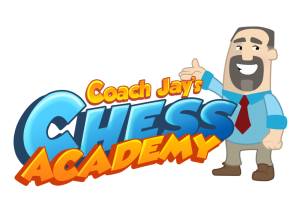 SUMMER ACADEMY IS FULL.  REGISTRATION HAS CLOSED. 
Coronavirus Update

:
  On May 16th, HRCA leadership made the decision to run our Summer Chess Academy as planned, but rather than meeting in person, the classes will take place online via Zoom and other platforms.  We are working directly with "Coach Jay" in California, who has transitioned his entire training program online, to bring his high quality content to your children!  We may even be offering some bonus sessions with Coach Jay himself over the summer!
Hampton Roads Chess Association is running a Summer Chess Academy on Tuesday nights from June 16th to August 25th (no class July 28th, as that is during our week-long summer camp).  Classes are held online from 5:30 to 6:30 PM.   Students will have homework (fun!) to complete between sessions.  Classes will consist of interactive, live Zoom lessons with our certified, background-checked coaches, as well as other fun platforms such as Kahoot, Chess.com, ChessKid, lichess, and Coach Jay's website.
This program is open to children who have completed 1st grade (age 7), through rising high school seniors.  Younger children may be admitted by exception, but it is imperative that all children have the attention span for an hour-long training session, as well as the ability to read material to complete homework / puzzles online.
The curriculum for the Summer Chess Academy is Coach Jay's Chess Academy, which uses a karate belt system of lesson books and puzzles books from White through Black.  For the summer, each student will receive their own account on Coach Jay's website with access to his newly digitized and interactive versions of the books — no paper copies will be provided due to current COVID restrictions.  Upon enrollment, we will e-mail the parent a copy of a placement test to determine the appropriate level for your student.  It is imperative that the students complete the tests without help from parents, older siblings, etc., as the consequence of skipping foundational instruction on material that has not been mastered will be long-term negative effects on the player's success over the board.  Before June 16th, students will be assigned to their classes and provided the name of their coach and a Zoom link for their first class, as well as their login information for Coach Jay's website.  Every player will complete one belt level over the summer.   Belt levels and suggested rating ranges are as follows:
White (unrated to 300)
Yellow (300 to 700)
Orange (600 to 1000)
Green (900 to 1300 or 1400)
Purple (1200-1500)
Blue (1400-1700)
Black (1700-1900)
Experienced / certified, background-checked coaches will be leading each group.  Over the course of each weekly session, there will be an interactive Zoom lesson, and for most groups, a fun quiz game to reinforce the week's lesson.  Students will then be encouraged to log on to Coach Jay's website to complete their homework as soon as possible, while the instruction is still fresh in their minds.  Parents will be provided with the coach's contact information for questions between sessions.  Zoom sessions will be recorded and links provided for review and for students who may have to miss a session.
Each student will be e-mailed a belt level completion certificate at the end of the summer.  If it becomes possible to meet in person by the end of the summer, we may be able to award some small physical prizes consisting of a karate belt tag and a chess piece keychain.
The fee for the program is $100.  This includes a coaching fee and a technology fee (a personal Coach Jay's account and a share of the tech and licensing expenses for running the program).  Upon registering, players will be checked for current HRCA membership.  Players with expired memberships or who have never joined HRCA will pay an additional $5 on June 16th to join or renew.  Players are encouraged to own a personal chess set for home use / practice.  Due to the current situation, we are unable to sell tournament sets at this time, but sets are available on Amazon.  Contact us if you have a question about the best type of set to purchase.  
Here is a sample set at a reasonable price
.
Once you have registered, you will be invoiced for payment.  
The program will cap at 150 students.  We have done away with priority registration.  Slots will be awarded on a first-come, first-served basis.
SUMMER ACADEMY IS FULL.  REGISTRATION HAS CLOSED.