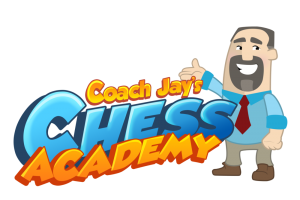 Hampton Roads Chess Association is running a Summer Chess Academy on Tuesday nights from June 16th to August 25th (no class July 28th, as that is during our week-long summer camp).  Classes are held at Eastminster Presbyterian Church, 3229 MacDonald Road, Virginia Beach.  Classes run from 5:30 to 7:00 PM.  Players may arrive as early as 5 PM but must be picked up promptly at 7:00.
This program is open to children who have completed kindergarten / age 6, through rising high school seniors.
The curriculum for the Summer Chess Academy is Coach Jay's Chess Academy, which uses a karate belt system of lesson books and puzzles books from White through Black.  On June 16th, all registered players will take placement tests and have the opportunity to play casually and meet fellow students while parents complete paperwork.  The following week, students will be organized into groups, meet their coaches, receive their lesson material, and start training!  Every player will complete one belt level over the summer.   Belt levels and suggested rating ranges are as follows:
White (unrated to 300)
Yellow (300 to 700)
Orange (600 to 1000)
Green (900 to 1300 or 1400)
Purple (1200-1500)
Blue (1400-1700)
Black (1700-1900)
Experienced / certified, background-checked coaches will be leading each group.  Over the course of each 90-minute session, there will be a lesson, time to complete assignments in the workbook, and practice time over the board.
Each player will receive an award at the end of the summer recognizing the completion of a belt level.
The fee for the program is $100.  This includes a coaching fee, materials, and awards.  Upon registering, players will be checked for current HRCA membership.  Players with expired memberships or who have never joined HRCA will pay an additional $5 on June 16th to join or renew.  Players are encouraged to own a tournament chess set for home use (sets will be provided for class).  These are available for purchase for $15 if you don't already have one.
Once you have registered and your slot is confirmed, you will be invoiced for payment.  Do NOT pay until you receive notification that your slot is guaranteed.
The program will cap at 150 students.  The priority for registration is 1) current HRSCC and HRCA School Chess Program members (same priority), followed by 2) HRSCC wait listed children, and 3) remaining slots being open to the general public.
Registration is open immediately for all students; however, the slots will be filled in order of these priorities.  The deadline for Priority 1 and 2 students to register is May 16th.  Again, do not pay until you receive notification that your slot is guaranteed.  All payments are due June 1st, or the slots will be cancelled and opened to new students.  Priority 3 students will move up in priority on May 16th, ahead of any late-registering Priority 1 and 2 students.  Note that it is possible that known absences, especially of more than one session, may impact your registration if there is a wait list for the program.  Missing two classes, for example, is three hours of instruction, 20% of the total, and will significantly impact what your child will get out of the program if they are unable to teach themselves the lesson in the book and complete the work at home.